WINGS! WINGS! Buffalo Wings for the "Big Game"!!!
For New Years Eve I made my most bodacious wings! My Darling Hubby had purchased for me for Christmas a new Deep Fryer, so that I no longer have to mess with frying wings on the stove.
*

WARNING...this is not a low-fat recipe. There is no such things as delicious low-fat wings, so don't try. Low-fat wings goes against everything I stand for as an American!

*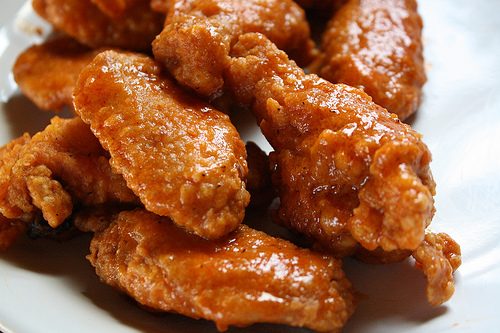 Now on to the recipe
WINGS
36 wing portions-thawed and rolled in paper towels to dry them
1 cup flour
1/2 cup corn starch
5-6 Qts. of your oil of choice to fry in- I like Peanut best
1/2 cup Crystal Hot Sauce-or hot sauce of your choice
1/2 cup butter or margarine
2-4 cloves garlic-minced
1-2 cups blue cheese dressing (or ranch if you prefer)
Baby carrots and celery sticks for dipping
In a large glass bowl, warm the butter in the microwave until it is softened but NOT melted. Using a whisk, add the hot sauce and the garlic.
Whisk vigorously until you have a smooth even sauce. Set aside.
In a very large bowl mix together the flour and corn starch. Toss the wings in the flour mix, and place them in a single layer on a lined sheet pan.
In the largest stock pot you own or a deep fat fryer, bring your oil to 325F. Fry the wings in batches of 12-18. Cook for 15 minutes per batch (set a timer!). Remove them from the fryer and toss them in your wing sauce. Serve the blue cheese dressing, and veggies for a most EXCELLENT GAME DAY!~!~!~!~!
Party on, Dear Readers, party on!