Laksa-Malaysian Red Curry Soup
Hello Fellow Foodies!!!!!
Have you ever had Tom Ka Gai (Thai Coconut and Chicken Soup)? Well...if you have and you like it, you will LOVE, LOVE, LOVE this recipe. It is called by a few different names, but as far as I can tell "Laksa" is the original name for this amazing, spicy, and satisfying noodle dish. I used chicken in this version, but feel free to add seafood, pork, or tofu! Shrimp is particularly yummy in this soup. Just remember to omit from the recipe until the very end as it only needs a few moments to cook through!
This dish does require you to make a pilgrimage to the local Asian grocery, or put in an online order for a couple of items, but I assure you, dearest reader, that the effort will be worth it in the end!
I use Mae Ploy Red Curry Paste for this recipe: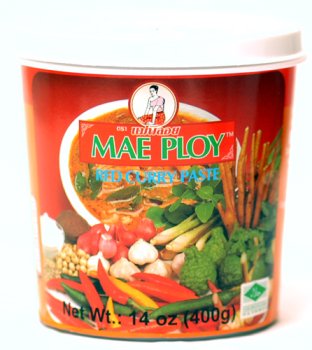 But whatever brand of red curry you prefer, will work just fine. Here is the recipe!!!
Laksa
2 cans Coconut milk (do NOT NOT NOT use low fat coconut milk-you will be very sorry!)
2-4 Tbs. red curry paste (depending on your personal spice tolerance)
2 Tbs. turmeric
1 Lb. chicken meat (white or dark or a mixture)-chopped into 1 inch cubes)
8 cups chicken stock
1/3 cup (about 4 lime's worth) freshly squeezed lime juice
3 Tbs. Fish sauce
2 Tbs. soy sauce
1/3 cup light brown (or palm) sugar
In a very wide bottomed pot bring one can of cocnut milk to a roaring boil.
Allow the coconut milk to evaporate until it starts to break up and separate.
Add the curry and turmeric and whisk to forma loose paste.
Add the chicken and stir to completely coat. Cook over high heat stirring often for about five minutes or so-until the chicken appears to be browning. Add remaining ingredients and turn the heat to medium and simmer for about 30 minutes.
In the meantime-Cook about 6 ounces of Chinese chowmein (or other wheat based noodle) as per the package directions. Drain and rinse under cold water. Form the noodles into 4-6 "nests. On high heat add about 2 Tbs. of sesame or vegetable oil in a 14-16" sauté pan. Once the oil is shimmering hot, add the noodle nests. Cook 3-4 minutes per side. Keep warm until you are ready to use them.
Place one noodle nest per bowl and ladle the soup over the nests. Serve with you favorite toppings. Mine are:
Thinly sliced Thai chilies (red or green)
Chopped peanuts or cashews
Green onion slices
Bean sprouts
Cilantro Leaves
Chopped Cilantro
Fried garlic slices