Black Beans and Rice for Meatless Monday
Happy Tuesday Fellow Foodies!
Yesterday was meatless Monday in my house. I love Meatless Monday, because I can revisit my days of being a vegetarian. Even though I am now back in the ranks of the "Omnivores", my Buddhist side often calls me back to the "do no harm" mantra of consumption. Thus, I try to consume meat with some amount of restraint. Life is a balance, sometimes it is a balancing act, but it is always an interesting juggle of moderation.
OK, so now that you have been bombarded with my soapbox speech here is what we had for our Meatless Monday meal: Black beans and rice. This is a great way to use canned beans. I know most purists will insist that you soak a bunch of dried beans over night, and slow cook them in a crock pot for HOURS AND HOURS. Yeah-right! I am a busy mom, and even if I weren't, "Ain't nobody got time for that!!"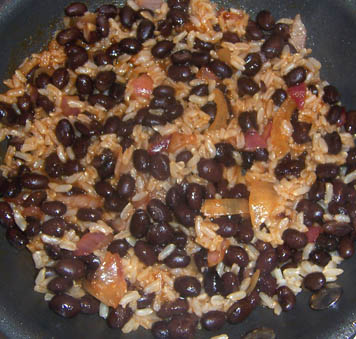 I discovered a long time ago that the humble canned bean is lifted to new heights of deliciousness with the addition of a few ingredients. You can go the long and slow method of employing dried beans, but I assure you, dear readers, that canned beans work great in this fast, simple recipe.
I do use an organic brand such as Whole Food's 365, or Trader Joe's store brand-just to keep things real.
Black beans and Rice
1 Tbs. extra virgin olive oil
1 onion-diced into 1/4 inch pieces
2 large cloves garlic (about 2 Tbs.)-minced
1 red bell pepper-diced into 1/4 inch pieces
1 jalapeno or Serrano-minced (optional)
1to 2 tsp. each:ground cumin, ground coriander, smoked paprika
2-14oz cans of organic black beans
Brown Rice-cooked per the package directions or to your liking
In a wide bottomed pot heat the oil over medium high heat until it begins to shimmer. Add your onions and sauté until they are just softened and fragrant-about 5 minutes. add the garlic, peppers and the spices. continue to cook for 3-4 minutes more until the spices start to darken. Add the beans along with their canning liquid to the pot, and turn the heat down to low. Stir, cover, and simmer for about 20 minutes.
Spoon some rice onto four plates and distribute the beans over the rice. Or you can stir your beans and rice together, if you prefer. Sprinkle with a little red pepper, or Japanese Shichime (if you have it). Serve, eat, repeat!