Pho for Mother's Day
I had the best Mother's Day ever yesterday!
As a matter of fact my Mother's Day started on Saturday. Steve had Chloe out of the house nearly all day. I got to sit around and catch up on my DVRed Anthony Bourdain's "No Reservations", putter about the kitchen and basically just catch up on some much needed rest.
Yesterday, on Mother's Day, Chloe and I sang a duet of "this Little Light of mine", which was slightly out of tune and off key, but when you are singing with a 4 year old-you take what you can get! Then I got to pick our restaurant for lunch...which by the way I NEVER get to do, because Steve usually let's Chloe pick where we go out to eat. Which basically makes my blood boil every single time he does it! Yesterday, however, I got to pick.
We went to Blue Ginger! YAY!!! It's our little Vietnamese restaurant. They have a respectably delicious Pho (noodle soup). I was sooooooo happy!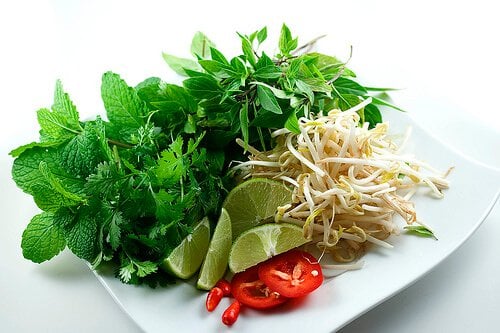 If you've never had Pho, I can highly recommend it. You get a very large bowl of broth, with noodles and a few basic veggies, and slices of meat (chicken, beef, duck, or tofu if you are vegetarian). Then on the side there is a platter of hot pepper slices, bean sprouts, and some herbs (usually cilantro and basil), and you can add as much or as little as you like.
Here is my version of Pho. If you can't find a Vietnamese restaurant in your town please give this recipe whirl, and bring Asia to you!
Chicken Pho
2 Tbs. sesame oil
1 bunch green onions-thinly sliced
2 ribs of celery-thinly sliced
2 carrots-peeled and finely julienned
8 oz. Shiitake mushrooms-stems removed and the caps thinly sliced
2 cloves garlic-crushed and minced
2 Tbs. ginger paste
1 Lb. boneless, skinless chicken thighs-1/2 inch dice (breast meat is OK too)
1/4 cup soy sauce
2 Tbs. Asian chili paste (optional)
1 cup frozen Edamam-or any green veggies you like, I do bok choy and broccoli too
2-3 quarts chicken stock
1/2 cup Michiu, or dry white wine
1 Lb. rice noodle (if you can't find them, just use Chinese egg noodle)
EXTRAS:
1 bunch cilantro-chopped, leaves, stems and all
1 bunch of mint leaves
1 Lb. mung bean sprouts
1 white onion very thinly sliced
roasted unsalted peanuts-chopped
Chili garlic sauce
Fermented Black soy beans packed in oil
roasted garlic-whole cloves or paste, your choice
Red Thai chilies-thinly sliced
Lime Wedges
basil leaves
Rice wine vinegar
Pour the sesame oil into a very large stock pot that has been heated to medium high. Add the next 6 ingredients and saute until the mixture is fragrant and slightly cooked. Add the chicken and brown. Add the next 5 ingredients and turn the heat to low and cover the soup. Simmer for 30-40 minutes on low-just until the chicken is cooked through and tender.
Cook the noodle seperately according to package directions. Drain and place the noodles into 4 very large soup bowls. Ladle the hot Pho over the cooked noodles, serve, and heap as many or as few "extras" into your soup as you like!
Place the "extras" separately into small bowls and put the bowls into the center of your table with tongs and spoons so everyone can help themselves. If you are worried about clean-up just use a few disposable paper bowls.
Facts and Nutritional health benefits
SHIITAKE MUSHROOMS
Shiitakes have four to ten times the flavor of common white button mushrooms. In addition to their robust/pungent, woodsy flavor and meaty texture, shiitakes provide high levels of protein (18%), potassium, niacin and B vitamins, calcium, magnesium and phosphorus. They have natural antiviral and immunity-boosting properties and are used nutritionally to fight viruses, lower cholesterol and regulate blood pressure. Lentinan, an immunostimulant derived from shiitakes, has been used to treat cancer, AIDS, diabetes, chronic fatigue syndrome, fibrocystic breast disease, and other conditions with impressive results. Researchers S. Suzuki and Oshima found that a raw shiitake eaten daily for one week lowered serum cholesterol by 12%.
Dried shiitake
The shiitake flavor is intensified by drying. Dried mushrooms can be stored indefinitely and reconstituted by soaking. The texture is different from fresh log-grown shiitake, and they don't sauté well, but dried shiitakes are perfect for soups, stews, gravies and baked dishes.