My Mini Vacation
For the past few days, Steve and Chloe and I have been running around the Los Angeles area playing 'Tourists'. We had are great time!!! What did we see? Well...lots and lots of things.
We started out by taking a trip at sunset to the Griffith Observatory. We watched the Sun set behind the "HOLLYWOOD" sign while there, and spent a couple of hours touring the Planetarium. Chloe was completely fascinated with the Tesla Coil, the star displays, and the models of all the planets in our solar system. The view from the Griffith Observatory is breath-taking. You can sit for hours and hours and look down on the entire city of LA. After the sun goes down the millions of twinkling lights below are as impressive as the stars above.
Early the next morning we went to see the Ronald Reagan Memorial Library. I was not sure that I would enjoy myself there, but Steve wanted to go so much (and this was his first vacation in a long time) that he had all the vote on our morning itinerary. I ended up really enjoying myself, and I got to walk down the memory lane of the Reagan Presidency. Touring the Reagan Museum actually made me a little prouder to be an American. We were there for just about an hour, but I left with a renewed sense of how great we once were, and how great we can be again.
Then we drove into central LA to see the La Brea Tar Pits. The Page Museum on the Tar Pits sight was a great walk-through. We saw dozens of Ice Age era animal fossils. The pits of tar themselves were a little bit of a let down. I had imagined lots and lots of huge pits of bubbling oozing tar ominously steaming skyward. There was one little pool of stinky, watery oily looking goo just sitting there doing not much of anything. The Mastodon replicas on the edge of the pit just made it look all the more "Hollywood" and took away from the stark interest of the place.
We got lunch, and then rushed off to Santa Monica Pier, because Chloe was going to explode if we didn't make it there for a little fun-time. We spent a couple of hours riding the rides and taking in some sunny warm beach weather. Then we drove a little of the Pacific Coast Highway, went back to the Hotel and passed out! It was a crazy two days of sight-seeing and having fun.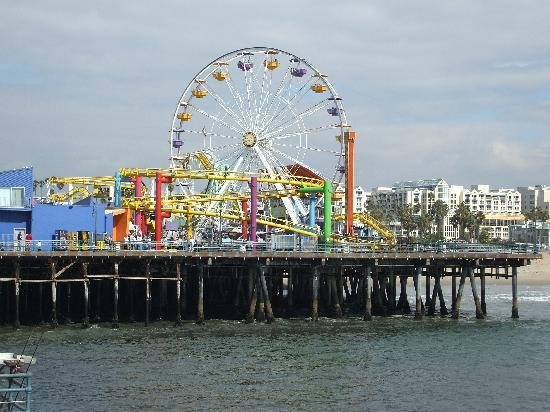 Now I'm home and feeling fresh and happy...what a great mini-vacation. I hope we get to do it again soon!