CUT- Beverly Hills
I just got back from 3 days/2 nights in LA. It was one of the best mini-vacations that I have ever had. My sister, Laurie, is here from Charleston, SC, and wanted to see some of the Los Angeles while here. I have not had a lot of time to explore the city as I live about 3 hours' drive from LA, so I also thought it would be fun...I was wrong it was WAY MORE THAN FUN!!!
She is a Johnny Depp fan. Check that-Laurie is a militant Johnny Depp fan! We checked into our hotel around 3:00pm and immediately left again for Hollywood to find the, now infamous Viper Room (AKA of River Phoenix dying fame), and Johnny Depp's star on the Hollywood walk of Fame.
The Viper room was very easy to find.
The Star-not so much. We parked at the wrong end of Hollywood Blvd. and ended up walking 2 miles one way, through homeless, druggies, and 'working girls' just to find that star. I was strangely Okay with it, as we were out in the middle of the afternoon and there were about a million other dumb tourists out walking too. Turns out, if you are looking for Johnny Depp's star it is across from Grauman's Chinese Theatre right in front of the Hollywood Chamber of Commerce. NOT at the other end where we parked! LOL
After we finished with Johnny, Chloe wanted to go for a visit to the Griffith Observatory. She loves it up there, and I do too. It sits high on a mountain above Beverly Hills. The panorama of the city lays sprawling out below you from the rooftop of the Griffith. I love it up there.
On Monday we decided to walk Rodeo Dr. and just take in the expensive looking store fronts. We had a great time. We got to see a film crew (no actually actors) out side the Beverly Wilshire Hotel filming an episode of "Entourage" for HBO.
We saw David Spade, but he disappeared before we could get a picture, and we even went into Juicy Couture and bought Chloe a shirt and a stuffed "Juicy Puppy" complete with swimsuit and shades (yes on the stuffed toy).
We Had lunch at IL Fornaio just off Rodeo Dr. It was soooooooooooo yummy. If you are ever in the area and want a great Italian meal I can highly recommend IL Fornaio!
Then we went back to our hotel to rest up for dinner, which was also in Beverly Hills, at Wolfgang's Puck's Steak House; Cut.
But before that, our cousin Brian who is a Pilot for Virgin America (and I have not seen in 14 years) , just happened to send Laurie a message saying he was staying overnight at the Hilton a mere block from our hotel, the Sheraton!!!!! So we all live in three different states, and have not seen each other in a very, very long time...in Brian walks!!!! He looked WONDERFUL. We talked for two hours like no time had passed at all.
Yeah...I gotta say, Wolfgang has disappointed me a lot lately, but Cut was AMAZING! The food was stupendous, the service even better. I started with a Fig and house-made prosciutto salad (amazing),
and then ordered the 8 oz. Fillet Steak to the whopping sum of $49,
plus a side of fries for $12 and a side of roasted potatoes for $12-in hindsight we should have ordered a green veg, oh well, next time. Then a glass of vino to wash down dinner.
One of the top 5 meals I've had in my life. Then off to the Hotel for a quick cocktail in the bar, and straight to bed!!! Life gets no better than yesterday...(insert smiley face here!)
Today we went to Santa Monica Pier, becasue if we didn't do something 'fun' Chloe's little head would have exploded!
Then we did some shopping at Marukai-my favorite Japanese market outside of Japan!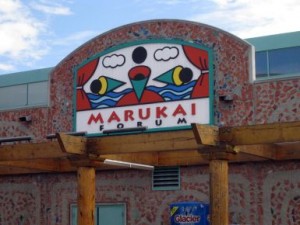 After that it was a loooong drive home to Tehachapi. It's gonna be a great week!